The big news if we've decided it's time to reopen for April. Dan, Rob and Carl have been busy cleaning the place up ready for our lovely members to return and escape the kitchen table.
We still have a few more months of limiting the capacity to 6 people at a time and using our booking system. If you are not a member and want to try out the space for the first time, please do get in touch. Any questions just ping your trusty servants Dan, Rob or Steve.
Meet Catalina
This month's "Meet the Member" features Colombian illustrator, mural artist and scotch pancake eater Catalina Carvajal. That's one of her lovely creations above.
Tell us a little about yourself.
I'm a Colombian illustrator and visual artist currently living in Ipswich. I'm adventurous and a bit of a hot-headed person that knows how to disguise it (or not?). Some say that I'm a bit inappropriate but I usually get away with it.
I'm fond of Scotch pancakes, porridge and tea in the mornings. I think I've finally adapted to the British diet and weather. It took me 4 years though. I'm in love with British rock music.
When do you feel most creative?
While sleeping (yes!), after a good night's sleep, after reading or watching something inspirational and, I must confess, when under pressure. I'm a stress ball.
Read the whole interview and see more artwork from Catalina here
Doodles of Ian
Unicorn member and graphic designer, Ian Pointer tells us about his love of keeping a sketchbook…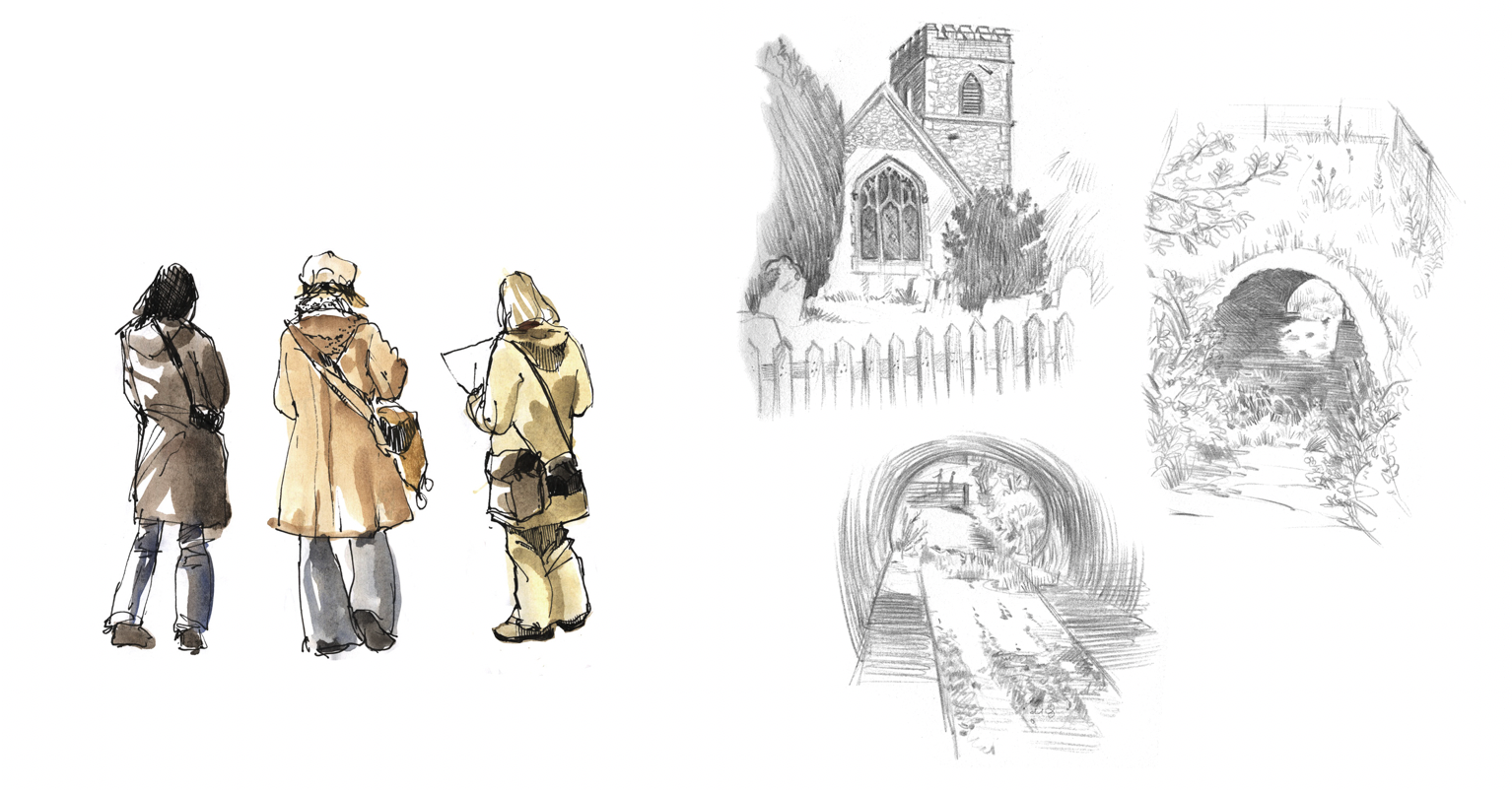 I developed a love for sketch-booking in my college years. The prospect of being able to carry something with you at all times that you can fill with whatever you want enthralled me. My first sketches were always of quirky figures, comical strips, skeleton pirates, characters from computer games and people I knew.
I created fantasy scenes which weren't so much invented creatures or robots but more real things with a little twist. I would build worlds in my sketchbooks. These were my playground for my thoughts run wild. In recent years I have taken some of those ideas and developed them further in the form of animation or film.
One might assume that sketchbooks of an artist are only preparation means for developing something more grand. That is the case of course But for me I find the delicate dynamics of the moment equally as masterful as a floor-to-ceiling work of art or an anatomically correct stone sculpture.
In my aptly titled Sketchbook publication you will see a collection of my typical sketch approaches that aim to capture something innocent and witty in response to the things I observe.
Enjoy a journey through my sketchbook!
Unicorns ROC!
We know that you can't wait to get out and active this summer following lockdown. And for any running fans out there Unicorn Studios has signed up as a proud partner of Run and Cycle Events ROC24 [Suffolk 2021] that takes place at Ipswich High School, Woolverstone Hall, Woolverstone, Suffolk, on Sat 26th + Sun 27th June.

The event is run by  friend of the Studios Greg Cooper, not to be confused with his name sake Greg the plant who is indeed named after him.
ROC24 is a fun and friendly event for all abilities that challenges participants (solo or in relay teams) to complete as many laps of a stunning 5k mixed terrain course as possible in 24-hours.
Find out more and sign up here: https://www.runorcycleevents.com/roc24-2020
Tell your friends
It's great to get back up and running again. Please tell your friends. We are looking to carry on building a thriving community in the studio of remote workers who want to escape the kitchen table and #worknearhome.